Beautiful Wedding Photography: Planning, Respect, Light and Imagination!
We were extremely honoured to photograph the wedding of Lukas and Natalie at the oldest church in London, the stunning Temple Church, followed by reception at the exquisite Reform Club on Pall Mall.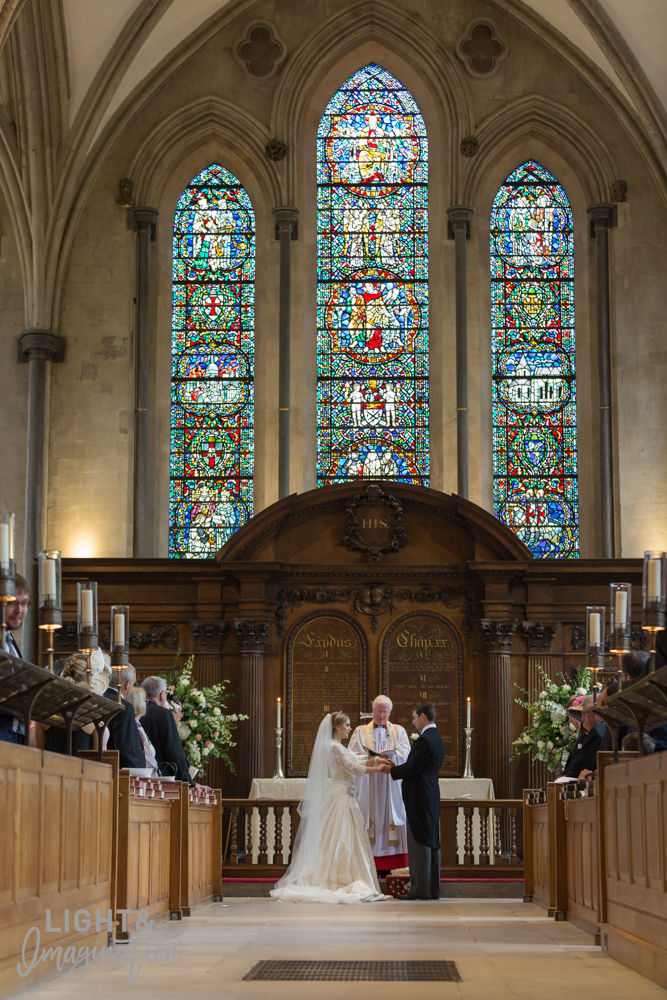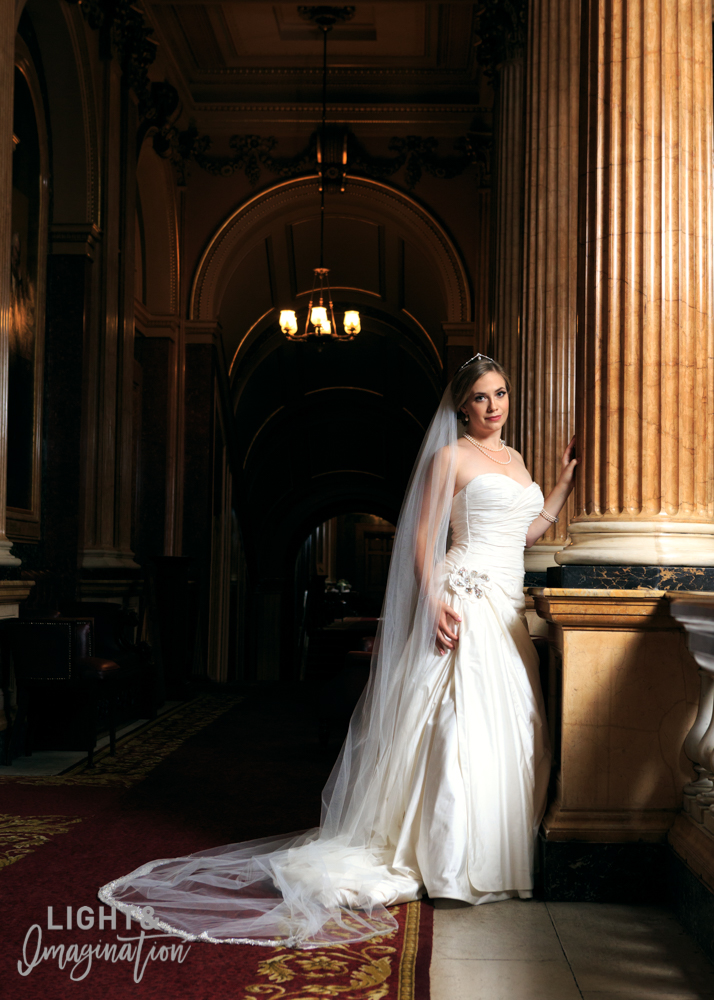 The couple decided to have a few posed photos and we spent some time together about a month before the wedding to visit both venues, then we exchanged ideas and images to determine what their favourite style was, so we could cater to their taste and meet their expectations. We contributed ideas of our own and started planning the shots.
We are strong believers that the style of wedding photography should be dictated by the couple and not the photographer, and a good photographer should be able to meet any style requirements and expectations as needed, which during a wedding will vary throughout the day. A good photographer should contribute creative ideas and input based on experience, but not try to impose their style on their clients.
A lot of people these days say they don't want too many posed photographs because they fear they will spend too long during the photo shoot instead of being with their family and friends and we couldn't agree more that they should spend more time enjoying their wedding day! In this instance the couple, family, bridesmaids and groomsmen only spent a total of just over an hour on posed photos resulting in no less than 30 studio-quality images, with a maximum of 1-2 minutes spent effectively posing for each image. This is thanks to us, the wedding photographers, spending a good couple of hours beforehand setting the lights, arranging the furniture as needed and preparing for the images we had already planned in our heads!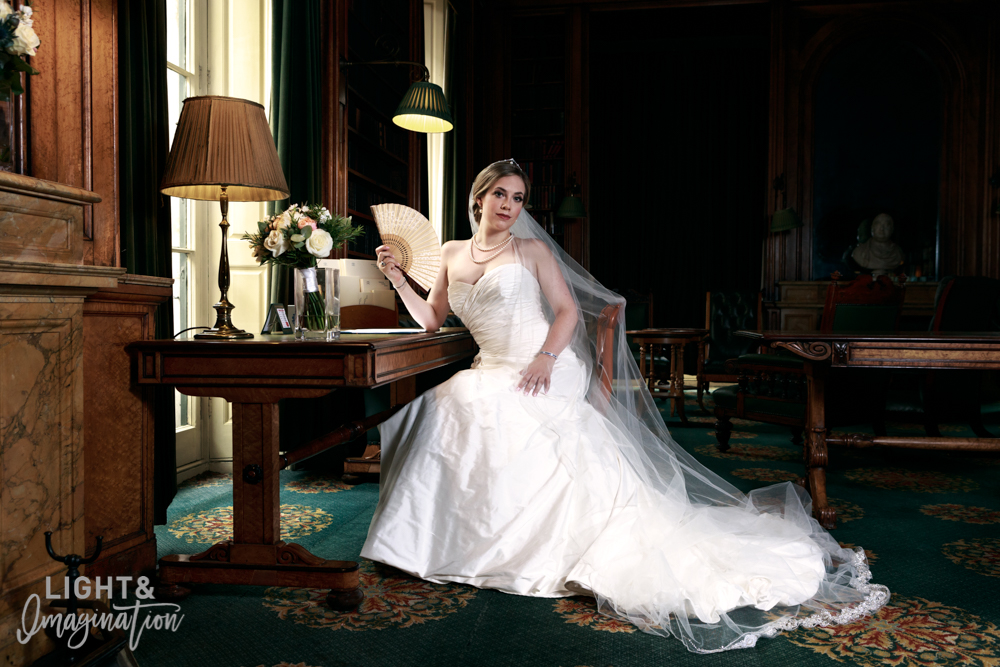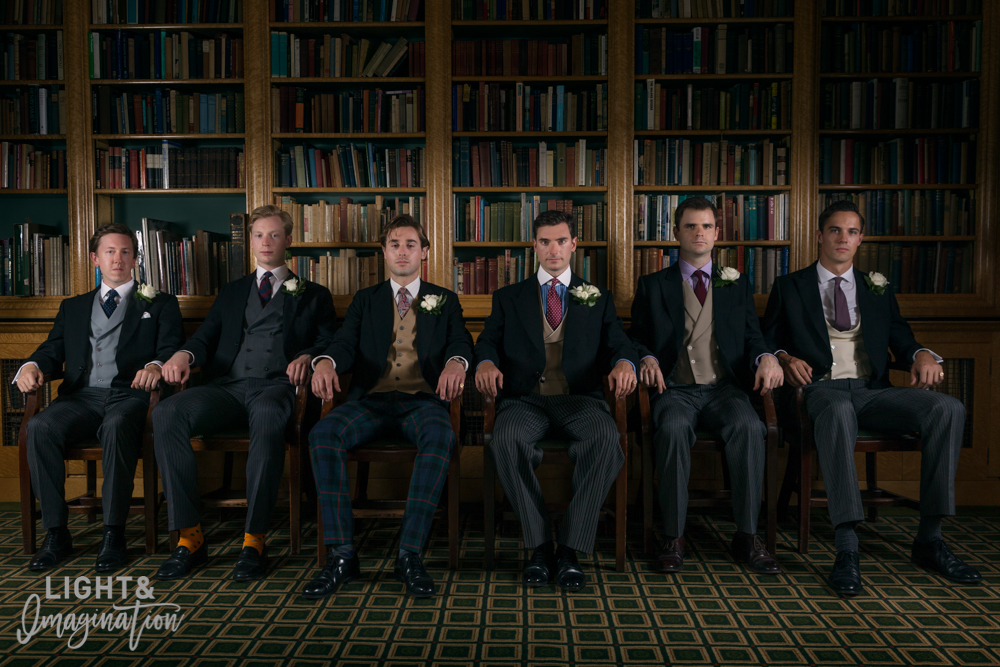 The great thing about being a well-rounded professional photographer is that you take inspiration from anywhere and ensure that wedding photos are as creative as fashion shoots, and not stuck in traditional 'wedding poses'. Andreea is a big fan of Annie Leibovitz's work especially her female fashion group portraits and she also likes asymmetric poses that challenge the status quo when it comes to wedding photography. The key is to work with the clients' style and requirements, the environment available, and add your own creative touches and ideas to create beautiful images. The Library at the Reform Club was a fabulous setting for both bridesmaids and groomsmen group photos. More importantly, we had fun working on these, and both the girls and the boys enjoyed taking part of this and just naturally fell into place as if they'd been professional models for a long time!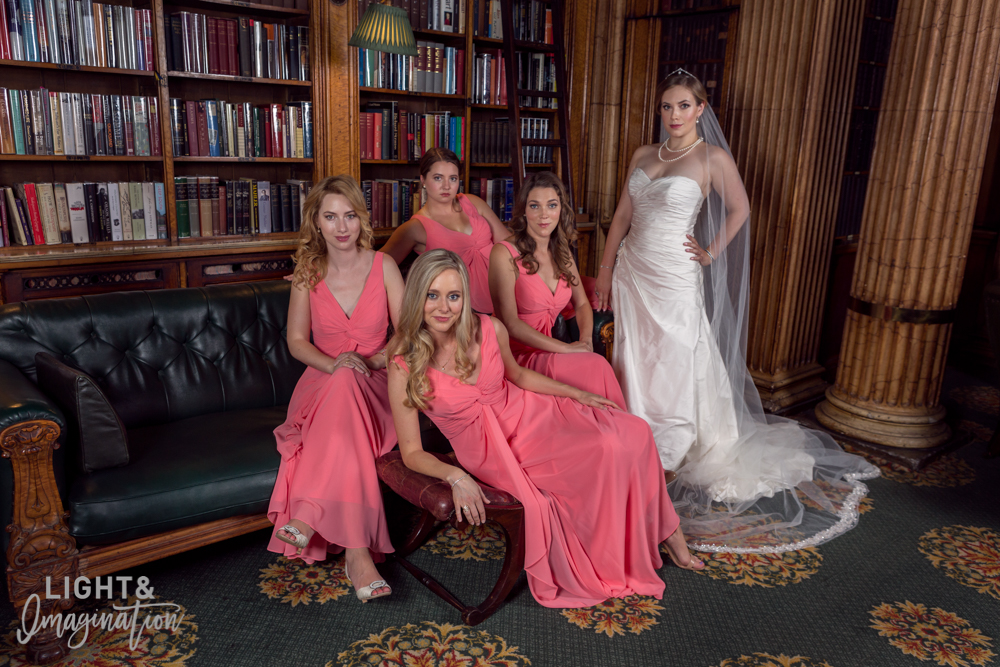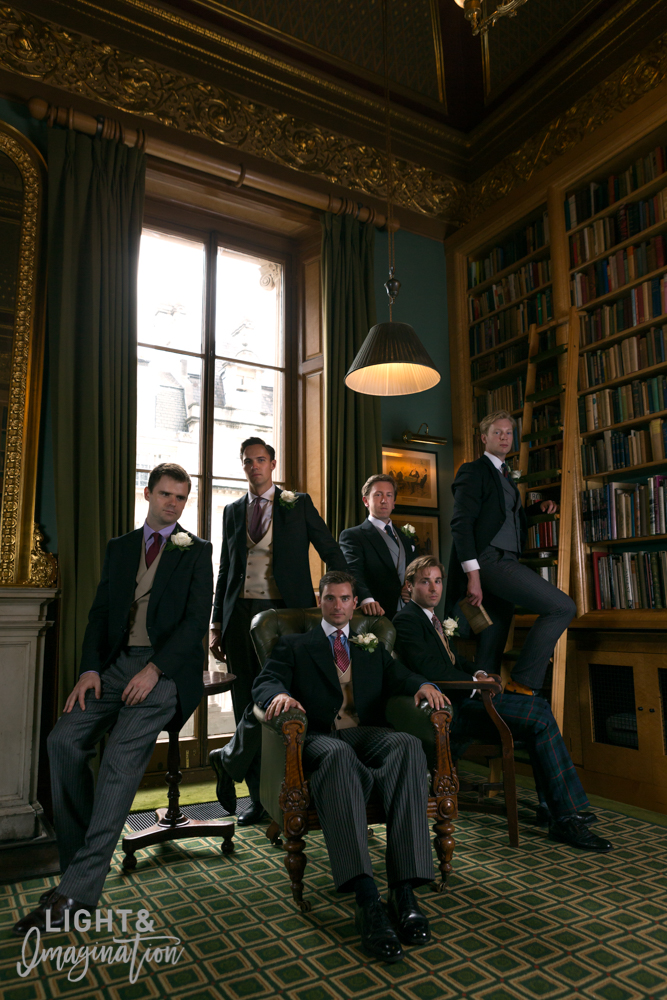 Stairs are your friend! Again, the Reform Club afforded such a fantastic backdrop to these family and bridal photos. Lighting however is paramount so that it brings out the details required, ensures people and clothing and architectural details are nicely lit but preserves a moody atmosphere to match the spirit of the place and occasion. When working with mirrors and reflective surfaces – as well as guests wearing glasses, obviously a big challenge is reflections – our big soft box was carefully positioned so it provided just the right quantity, quality and direction of light for these shots. Again, the subjects were only required to spend a maximum of 2 minutes posing, as we had everything planned, pre-tested and ready to go when they arrived.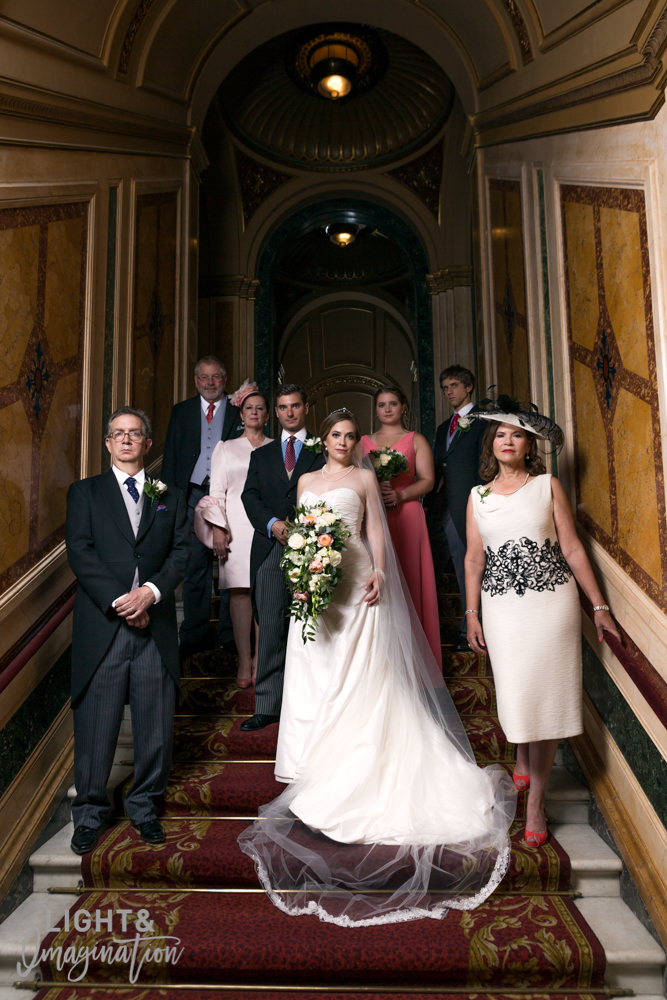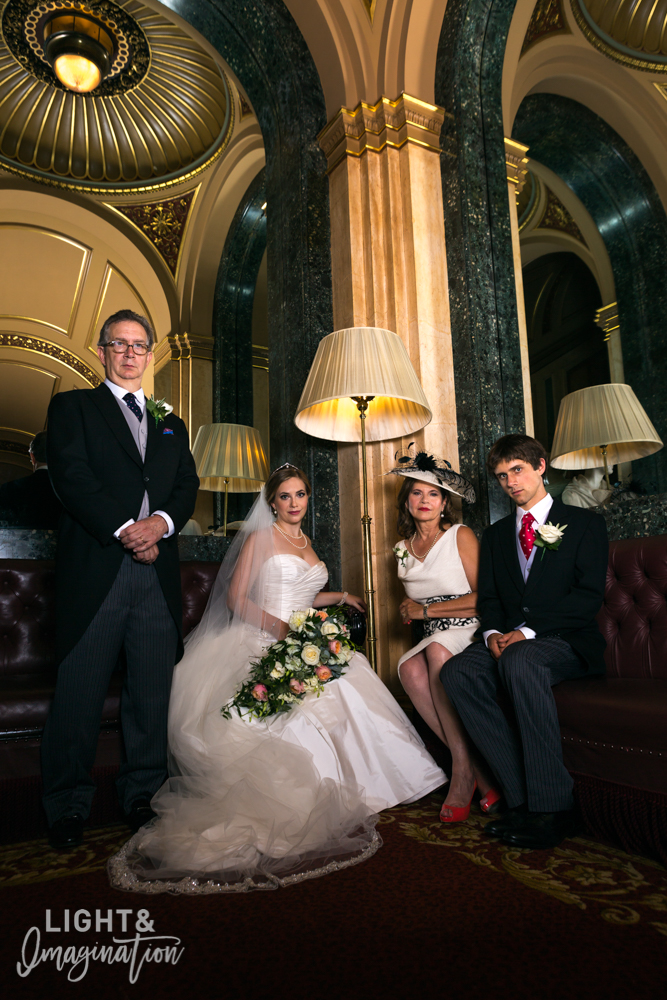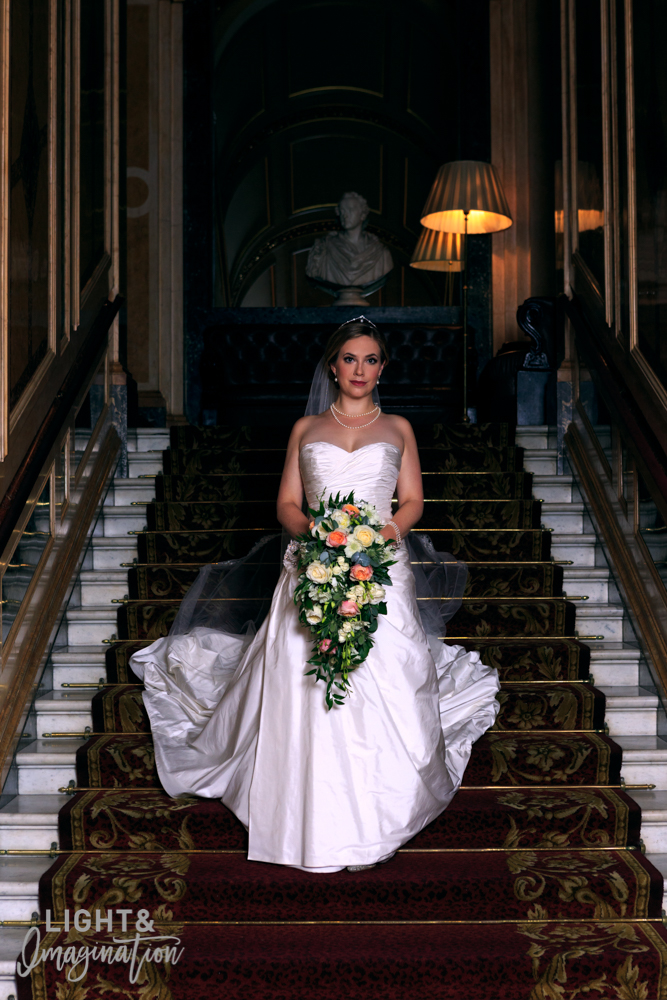 Our couple chose to have the posed photos before the actual ceremony and reception, so they were all 'out of the way' before the wedding day started in the earnest! After finishing the posed session, we left for Temple Church with plenty of time to ensure we were there before the bride arrived. This allowed us to capture a few images of the beautiful setting in the church, as well as play with the opportunities afforded by the rainy day. When the bride arrived, Andreea was waiting outside to capture her arriving, while Matt was inside the church capturing the anticipating groom. The benefit of having two photographers on the day, which is what we at Light and Imagination wedding photography offer as standard, is being able to be in two places at once! The classic example is groom waiting being captured at the same time with the bride walking down the isle.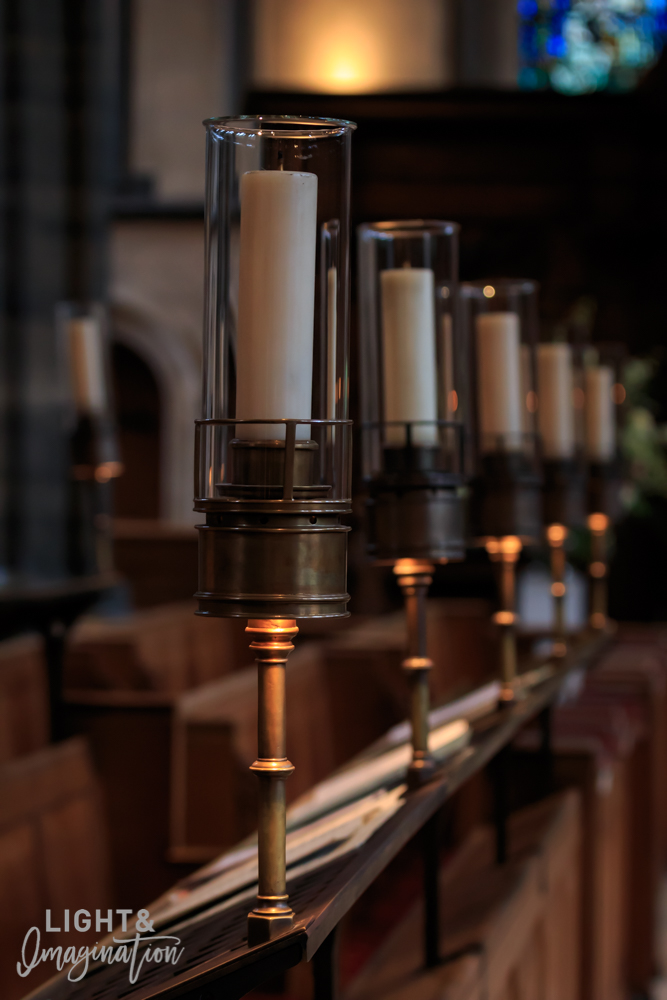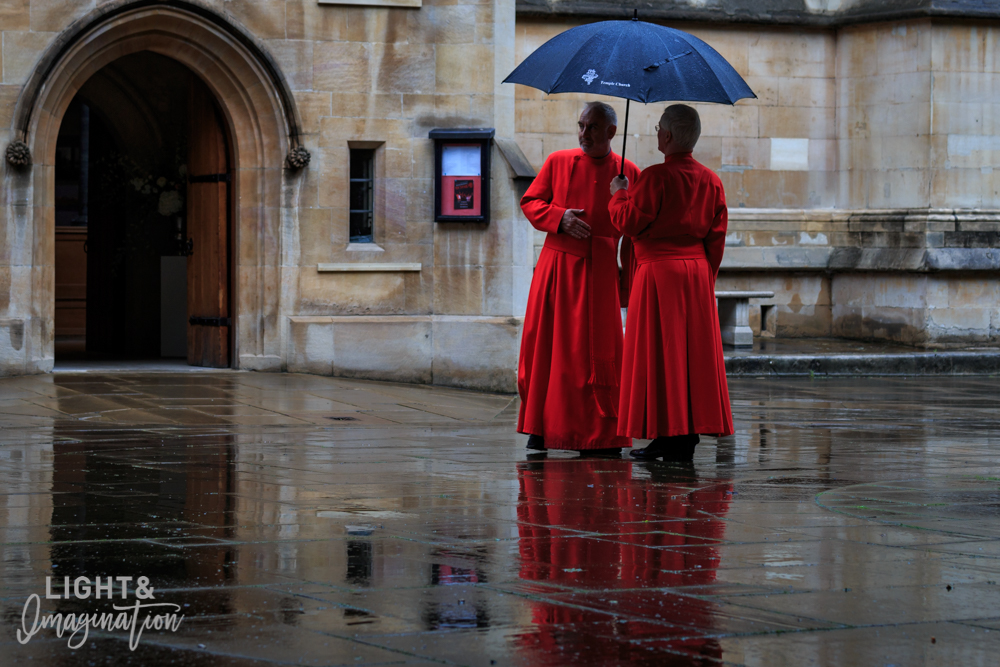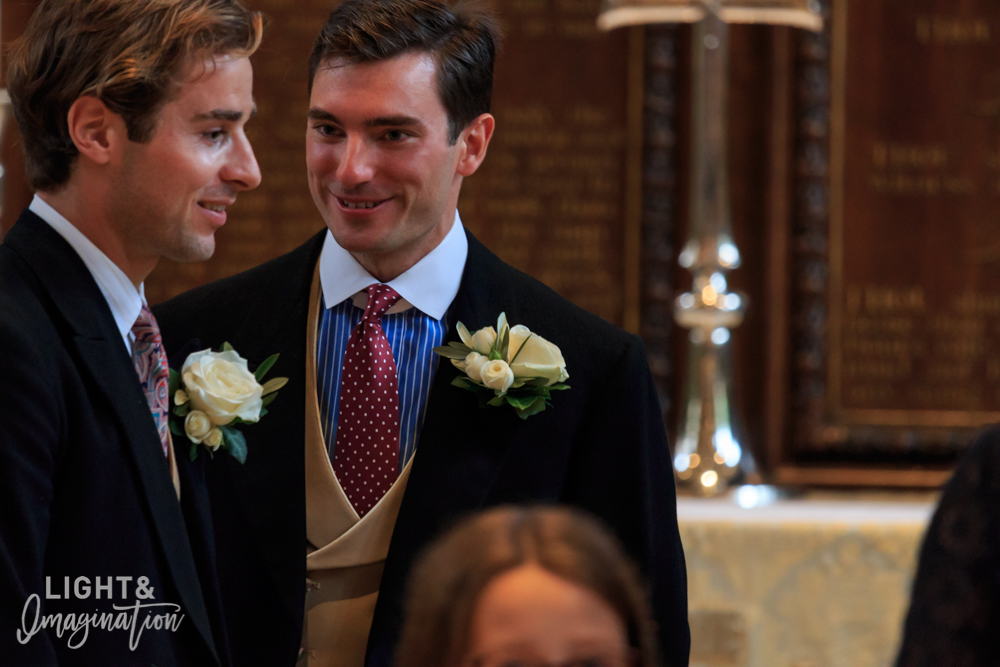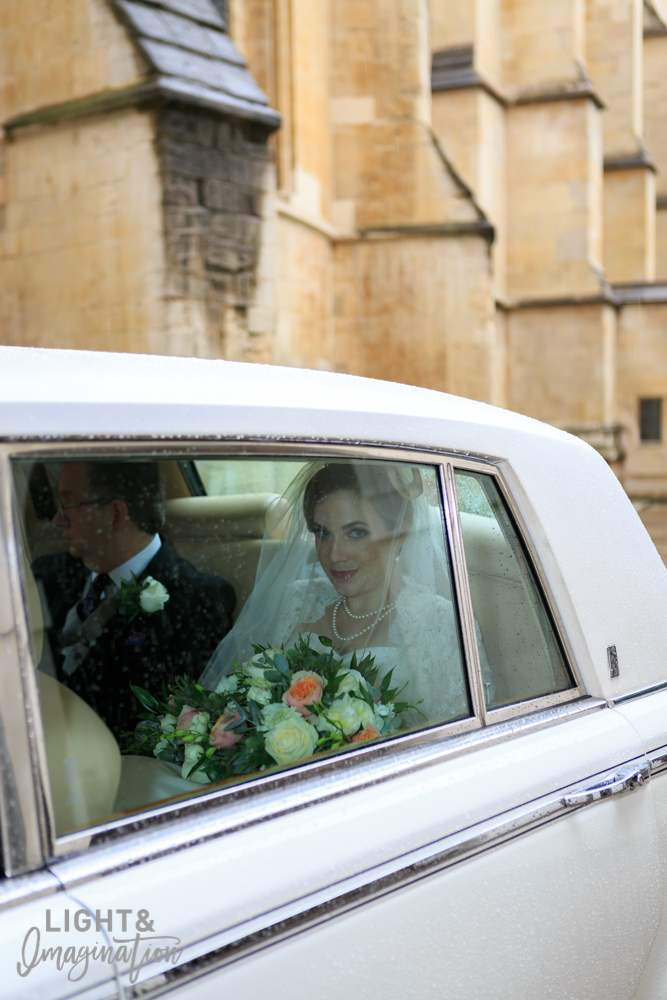 Being inconspicuous and respectful during the actual ceremony is paramount. We always attend the church rehearsal when there is one planned, in this case the day before the wedding. Being there allowed us to re-connect with the bride and groom, meet immediate family and friends and importantly speak to the vicar and ensure any restrictions are taking into consideration. Obviously while there we also took a few test shots and planned where we were going to stand, what settings we are likely to require and so on. We always have the cameras on silent and use zoom lenses as needed to ensure we capture detail without having to be in people's faces. We also aim to capture everything with natural light only, as flash lighting can be disruptive and is very often – understandably – not welcome by the guests or the vicar. With two photographers we are able to capture a variety of angles and moments, which is essential as the wedding ceremony will go faster than you think and there's no chance for a repeat! As a photographer, knowing how to make the most of your equipment is crucial, you will be required to change settings and lenses probably a few times throughout – a fast response and nerves of steel are also required. Don't miss essential moments by reviewing your photos or changing your lens at the wrong time! Practice makes perfect, but also having two photographers on the day minimises the chance of any omissions or mistakes.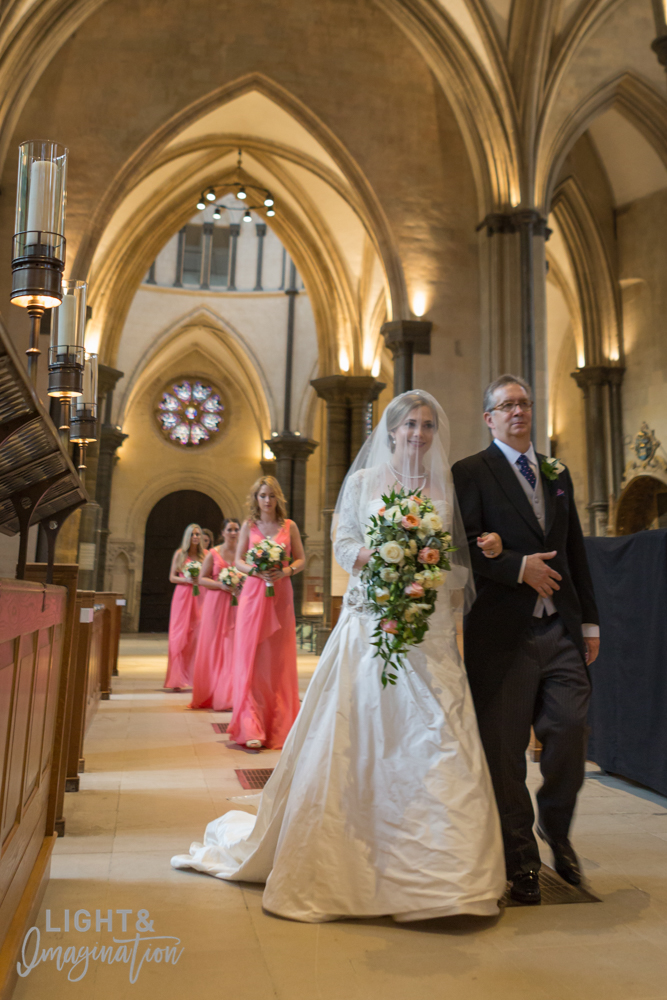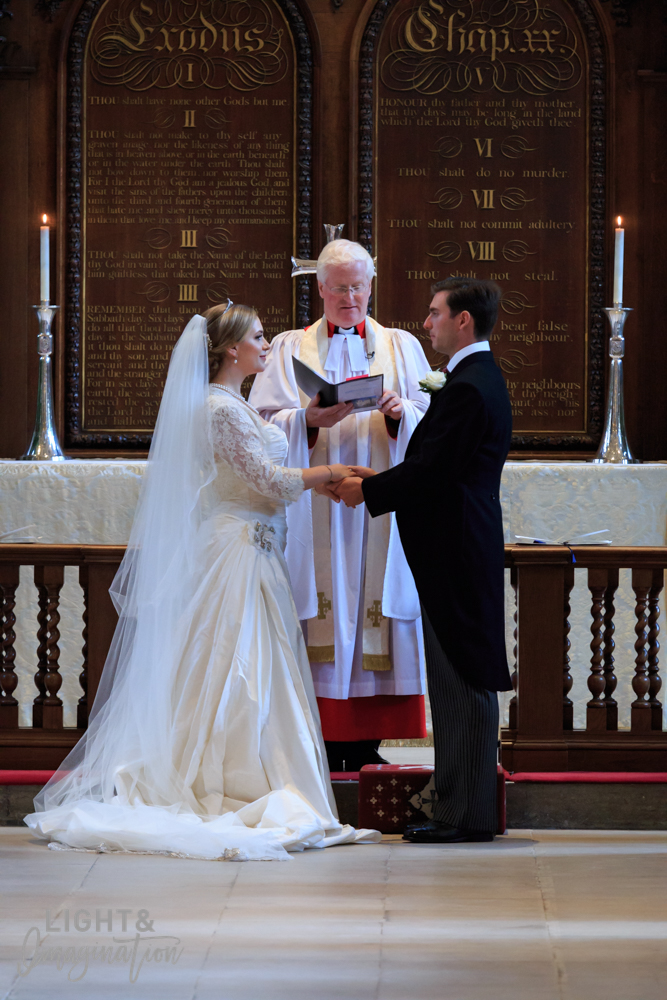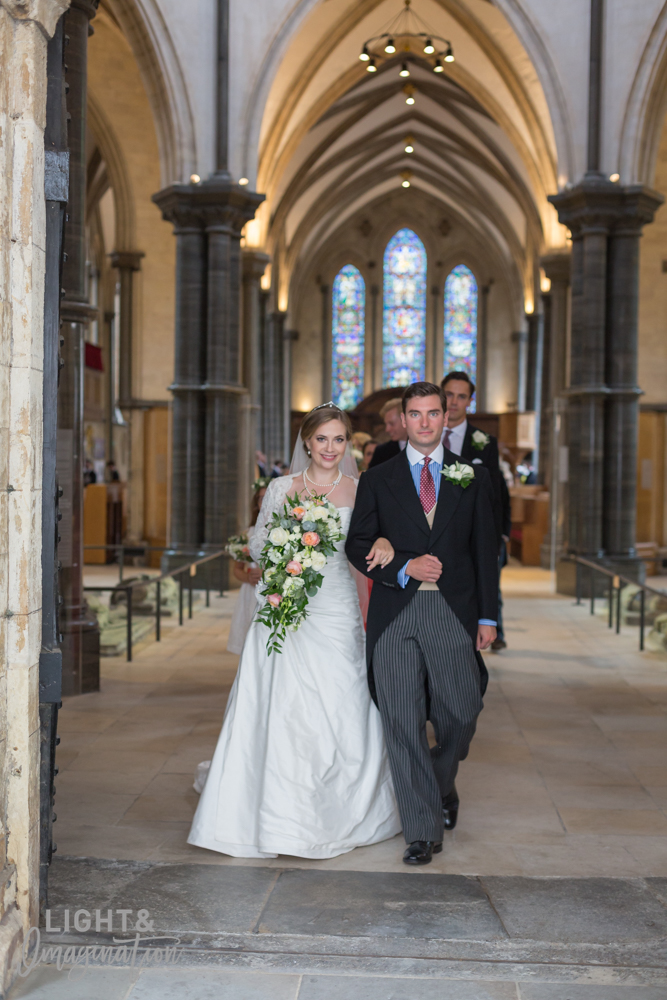 Variety is the spice of life, right? We really wanted a photo of the bride and groom in front of the astonishing church door, after the ceremony, and we decided a different lighting set up was right to provide a little variety. A small 'film-noir'-inspired selection resulted, very cinematographic and just a little different. We also used the opportunity to deliver another quick family photo with members who weren't at the shoot earlier in the day. Again, very little time was spent here so we could allow the guests to make it to the champagne reception as soon as possible!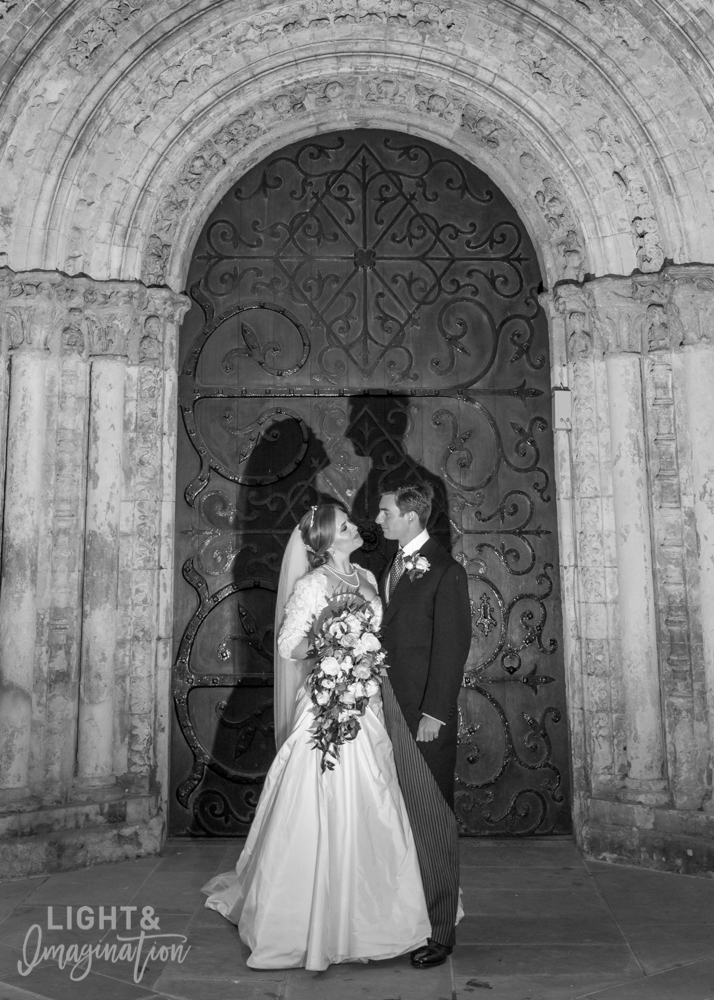 Capturing moments and emotions is, of course, essential, and about 80% of our photographs throughout the day are entirely candid (call it documentary, journalistic, candid, un-posed, there are many different ways to describe this type of photography). Candid is not happy snapping though, which is where a lot of wedding photographers fail, it still requires anticipation of the moment, consideration of lighting, composition and respect for your subject! We see too many photos emerge that don't do their subjects justice at all, because the photographer is too self-indulgent in their 'documentary' ambition or the processing has been done so badly (often to rescue a badly-taken photo to begin with). Oh, and we never ever photograph people while eating! Who would want that?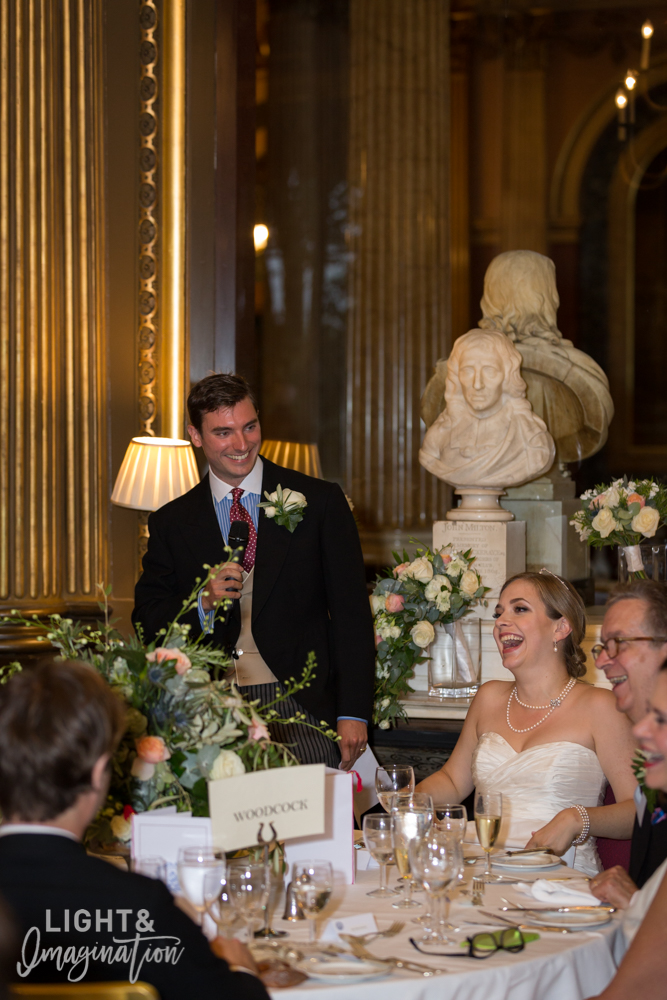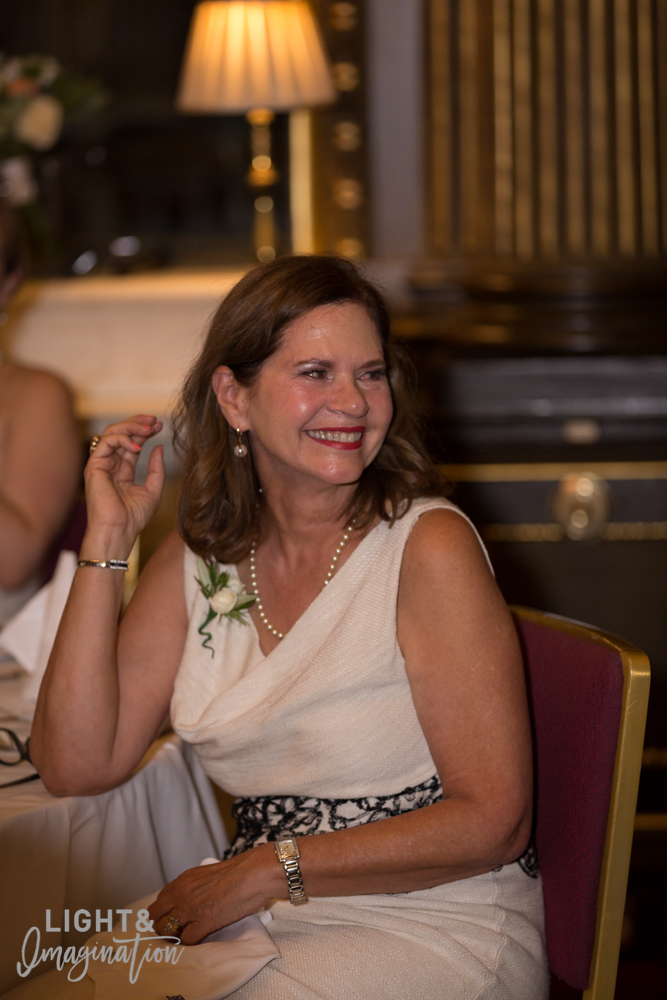 Scottish reeling followed dinner and we got a little creative with the angle and style, capturing motion of this fast-paced and super fun part of the evening! When it came to the first dance, we were prepared to make the most of our captures while ensuring there was sufficient lighting to bring out the relevant details but maintain a moody atmosphere. Matt was in charge of creating the soft lighting from afar (entirely inconspicuous to the dancers) while Andreea captured the images from the side of the dance floor.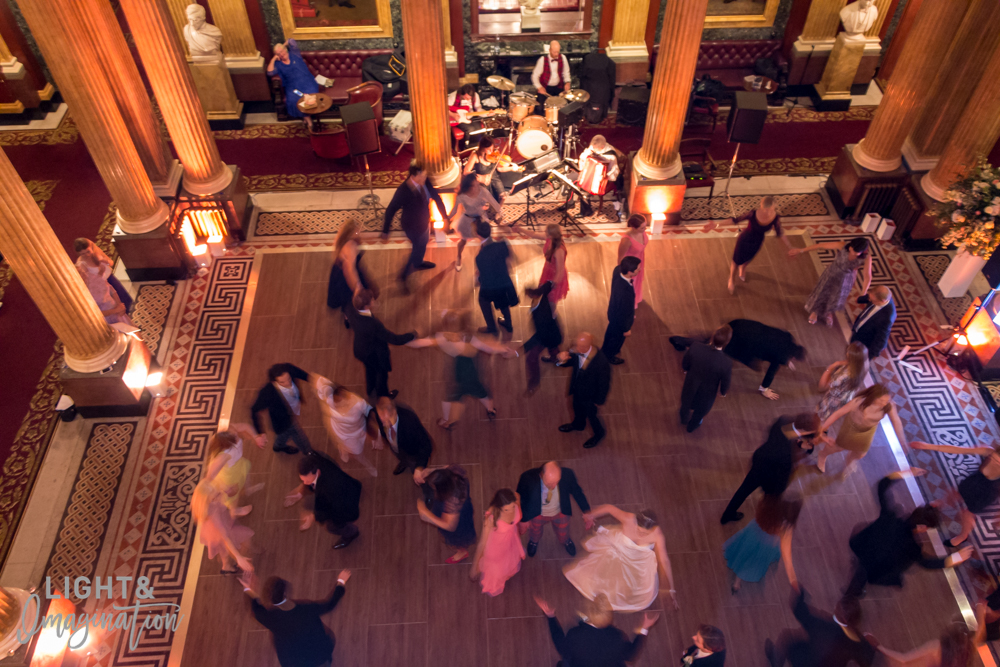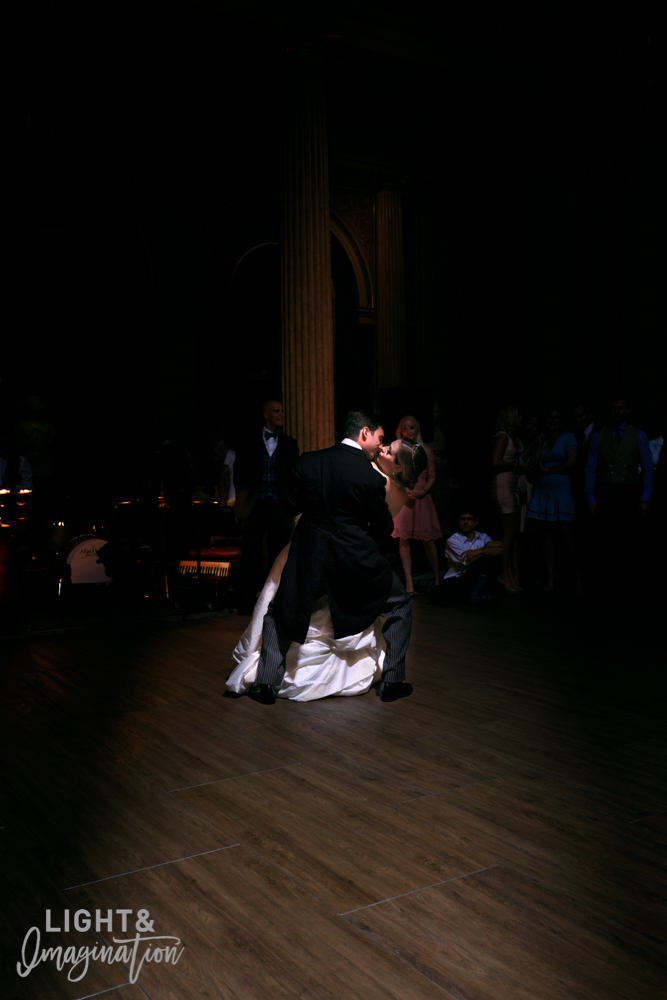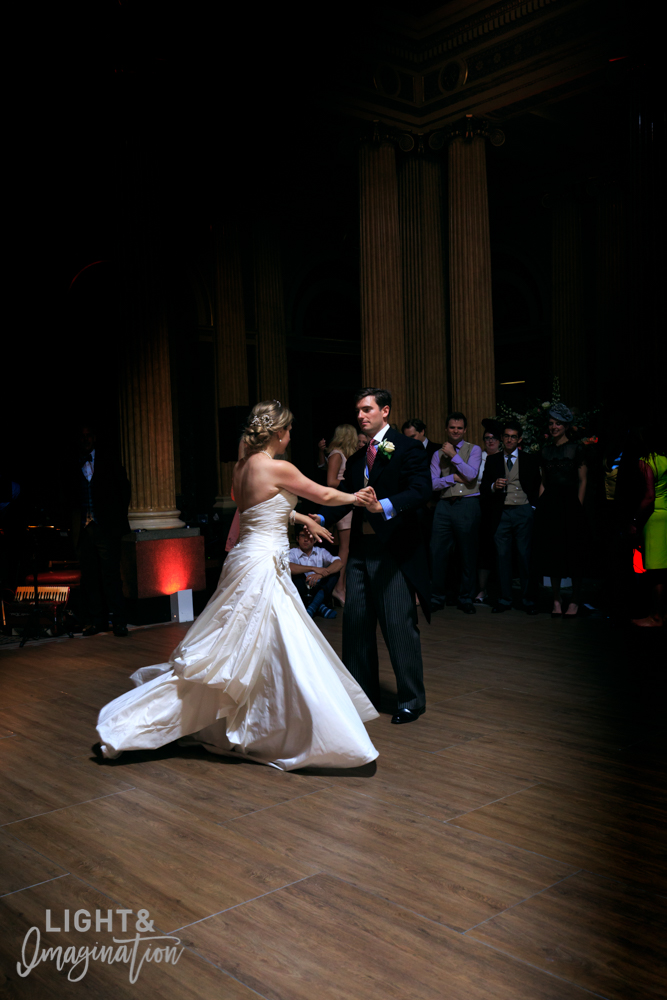 Last but not least, capturing details from the day is important to remind the couple of the beautiful setting, venue, and decorations they spent time and money to design and organise. We usually capture these images just before the wedding breakfast, when everything is nicely arranged and ready for guests.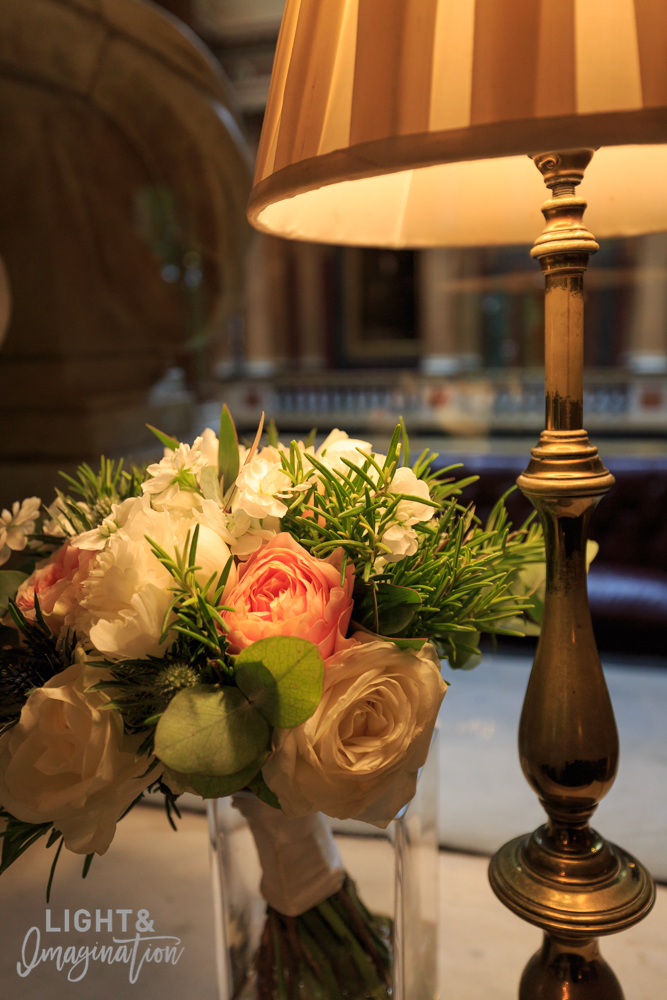 Wedding photography is, without a shadow of doubt, one of the most complex (technically and creatively) but also one of the most rewarding types of photography. It requires the photographers to be technically sound, have intimate knowledge of lighting and composition, to be personable and create a good rapport with their subjects, to be there, in the moment, but inconspicuous at the same time, to have a huge amount of responsibility and respect for everyone and everything concerned, and to have stamina and be able to work hard for sometimes up to 14 hours on the day, with few breaks in between.
Brides and grooms to be, if you like what you see in this blog post, get in touch to see if we are who you're looking for when it comes to wedding photography for your big day! CONTACT US
Fellow photographers, we love nothing more than sharing the knowledge, so if you think you can learn from us, check out our training courses and get in touch if you're interested PHOTOGRAPHY TRAINING COURSES